Don't be a Dickhead: The Mahones' Guide to Rock n' Roll Survival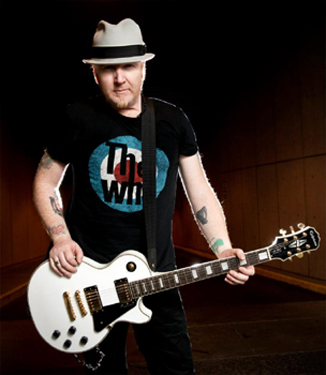 When Riffyou.com caught up a few weeks ago with Finny McConnell, the frontman of Canadian Irish punk heroes The Mahones, the primary purpose was to discuss the pair of albums in which the band is readying for public consumption. We then presented McConnell with the opportunity to provide young musicians with advice on how to begin, maintain and grow their rock n' roll dreams.
After admitting that he could be a speaker on the subject, McConnell shared with us a wealth of wisdom that needed to be presented in full. This is what he had to say:
"Here's a little lesson to the musicians out there. First of all, there are a couple important things that you have to do if you want people to know who you are. If you want to get your name out there, get your music out there, get well known, you have first of all have to be respected by people in the industry. You can't be a fucking dickhead.
"It's important to be nice to people; be honest; and do a good job – then you'll get respect from other people in the business. When you have respect and do a good job, people want to work with you. It's very important to be a decent person, because people will remember you – they'll meet you on the way up and they'll meet you on the way back down. You don't want to be stepping on toes and biting on hands. Nobody in the industry likes a fucking asshole.
"Write good songs. You need good songs. If you don`t have good songs…you can`t polish a turd. Some people think they have good songs, and they don`t. You shouldn`t try to ram them down people`s throats if they`re bad songs, because people will get turned off by you. A good way to get good material is to practice covering good material, and then start writing material of your own that you think is along the [level of quality] of the material that you're covering.
"Have a good live show. Make sure your band is good live. If you're going to be a shoe-gaze band, you better be fucking really good with your music, because you're not going to be good to watch live. You better have a good light show! [laughs]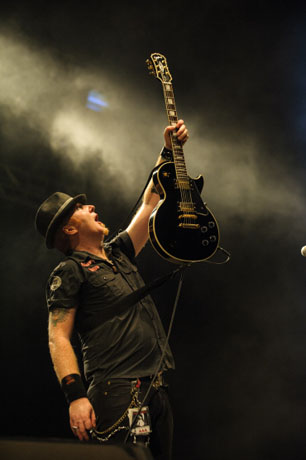 "Always look good on stage. When you walk in the room, people should know you're in the band. When the band walks into the room, people should go, 'oh fuck, here's the band!' Don't walk in like you just walked off the street in your pajamas, lumberjack shirt, and a scruffy beard – there's a lot of that in the indie scene. But, I can't remember any of those fucking bands – they come and go so fast. The ones who stand out, are the ones who put effort into it….like The Clash. Some guys can [pull off] homeless chic, but not many.
"I'm not saying [you should] dress up in military uniforms or anything, but make sure that the band looks like a band. Spend some time on the look; spend some time on the artwork; spend some time on the music; spend some time on your attitude and professionalism. Get all of those things right. When you have all those things right, you then have a band that can be sold. Some don't [always] realize that the band is basically a product and you have to sell it to people.   
"Then, get an agent. An agent can't sell shit – he needs a product. You have to be in demand so that your agent can do his job. You have to create a buzz, and the way you do that is to get out on the streets and play the showcase gigs. You're not going to make any money for the first couple of years.
"You have to put money into the business – I'm putting money into the business every day. Everything I make, I put back into the business and that's what gets us around the world. Put your money where your mouth is. No one is going to give you anything for free – you want it done, you have to do it yourself. DIY – that's our attitude.
"Bottom line, you get your look; you find your sound; you write your songs; you rehearse them; you get a 10-song set; you go out and get some shows; and then you meet people in other bands. If they like you – because you're not an asshole – somebody is eventually going to take you on tour. Then, you're on tour opening for somebody, but you're not going to get paid very much money. Don't have these grand illusions that you're going to get paid thousands of dollars – you're going to get $100 a show." [laughs]
"Against Me! paid me $50. When you're the opening band, you're not making the money, because it's the other band's money. You're getting the chance to play in front of their crowd to promote your band and steal all of their fans for you. So, you bring a lot of t-shirts and CDs and you can make $500-$1,000 in merchandise sales each night. You have to do these tours…that's the way in the door.
"What a lot of bands forget to do is [not just] tour Canada, but the US and Europe as well. A lot of bands forget to do that. They get so big in Canada and then they can't start over again with the US and Europe.
"Then there's these bands touring around Canada in a tour bus. They cross the border and play for three people…no one's ever heard of them in the US or Europe. That tour bus money that they're wasting in Canada is the money [that should be used] to finance the US or European tour – those things are $1,000 a day! The Ramones never had a tour bus – they had a tour van and kept those [extra] thousands of dollars a week to put back into the business.
"I could party my ass off on a tour bus and drink cocktails going down the highway for $1,000 a day, or I could save $10,000 a week, buy five tickets for $5,000 to fly the band to Europe and take the other $5,000 to rent a van for a month and have money for gas. If you [tour] all regions at the same time like we did, you build up your popularity around the world at the same time.
"Get a good reputation with the promoters, because they can hire you and fire you. At the end of the day, if promoters don't like you, you're not going to get any gigs. If you walk backstage and you're an asshole because you don't have the type of bread you like backstage…they're not going to want you next year! You just fucked it up over a loaf of bread!
"My parents owned a couple of Irish pubs when I was a kid, so I grew up around business. To do business, you have to do good business. A lot of people do bad business. So, if you want any advice from me, that's it right there – do good business; take your time; and dedicate your life to your project."  
Please be sure to follow us on Twitter @riffyou and at Facebook.com/riffyou.