Motörhead Gets Megadeth & Anthrax for Motörboat Cruise

If you've ever wanted the chance to see Lemmy in a leather speedo, then the first annual Motörhead Motörboat cruise could be the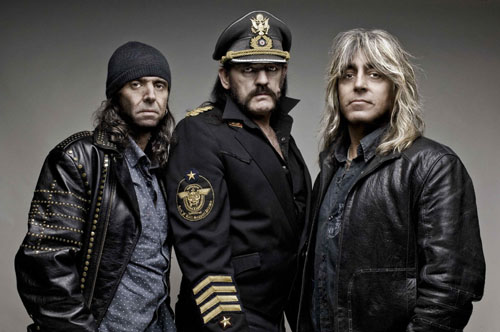 adventure you have been waiting for.
Taking place aboard the Carnival Ecstasy from September 22-26, the cruise will feature performances by Megadeth, Motörhead, Anthrax, as well as friends of Riffyou.com, Zakk Wylde, Wilson, and Danko Jones. Comedian Jim Breuer of Saturday Night Live and Half Baked fame will also be upon the deck.
Says Lemmy: "This will be everything you've come to expect from a night out with us, except even louder, with more great bands and no way of escaping! If you thought waves could rock a boat, you've got another thing coming with this lovely little outing!"
Adds Dave Mustaine of Megadeth: "There never has and never will be another cruise like Motörboat cruise. Come on a thrashing voyage with Motörhead, Megadeth, Anthrax, Zakk Wylde and all Lemmy's friends. This is the coolest way to ever see a metal concert."
Motörboat will depart from Miami, and visit the ports of Key West, as well as Cozumel, which located just off of Mexico's Yucatan Peninsula.
Tickets go on sale Tuesday, March 18 at 12pm EST through the soon-to-be-launched site MotorheadCruise.com.
Recently, Riffyou.com spoke with Texas-rockers, American Fangs, about what it's like to play upon a big-time rock n' roll cruise.
"They're really not that bad," explained American Fangs' drummer Micah Miller regarding the living situation upon such a cruise. "The rooms are half the size of a standard hotel room, with maybe the bathroom being a quarter of the size. You can't feel the boat moving unless a storm comes through, which of course came while we were travelling back from the Bahamas to Miami. That was pretty intense. Papa Roach was probably halfway through their set – the last one of the entire cruise – and you could just feel the boat going back and forth. Oh man, I couldn't imagine [playing through that]. With playing drums in the band, if my kit was moving around I'd wonder what was going on. It's already a drummer's worst nightmare when your kick drum starts moving away from you in a song and you can't grab it."
-Adam Grant
Please be sure to follow us on Twitter @riffyou and at Facebook.com/riffyou.