Q&A: Less Than Jake Take the Canadian Quiz (WIN TICKETS!)

Ska-punk favourites and friends of Riffyou.com, Less Than Jake, recently completed a successful summer-long run at the VANS Warped Tour in support of their excellent 2013 release, See The Light.
This October, the band will play a number of Canadian cities (see dates below), so we felt that it'd be fitting to put LTJ frontman Chris DeMakesthrough our first ever Canadian Quiz. Here's how that went, eh!
FOR A CHANCE TO WIN TWO GUESTLIST SPOTS AT YOUR CANADIAN SHOW OF CHOICE, FOLLOW US ON TWITTER @riffyou OR ON Facebook AT Facebook.com/riffyou AND TELL US YOUR FAVOURITE LESS THAN JAKE ALBUM. USE #riffyouLTJ TO ENSURE THAT WE SEE YOUR ENTRY. CONTEST CLOSES OCTOBER 2, 2014 AT 5PM EST. GOOD LUCK!
RY: What Canadian city has been your favourite to play thus far?
Chris: "I love all of Canada…every time we go up there to play, the fans are great. But, I have to go with Montreal on this one.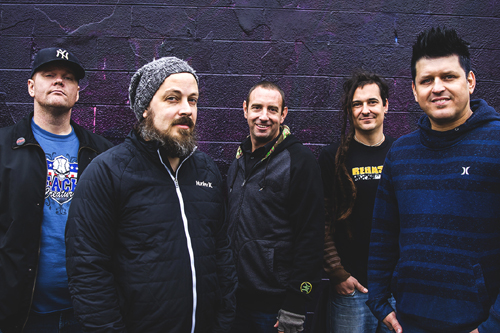 Only because there are still street punks in Montreal that dress like that all day long. They live it, they breathe it…and they go absolutely friggin' crazy! Montreal's one of the real last bastions of punk rock in this world. There's the safety pin through-the-nose punk rockers with crappy dyed hair living hand-to-mouth. That's cool and refreshing to see."
RY: Who is your favourite Canadian band?
Chris: "I'd like to joke around here and say Loverboy, who I actually do like because I grew up in the '80s and am fucking old. But, I'm going to go with The Doughboys. They were [responsible for] some of the first punk rock I ever heard. I just love that band and their songs. They were a huge influence on me as a song writer."
RY: Who is your least favourite Canadian band?
Chris: "Well," laughs. "I have to say Nickelback, right? There is no one else that could even touch them. What's amazing about that band is if that many people actually hated them, they wouldn't be filling arenas and stadiums. I have a feeling there are a lot of closet Nickelback fans."
RY: Would you rather experience a full Canadian winter, or be locked up in a hotel room for the same amount of time listening to Celine Dion's greatest hits on repeat?
Chris: "Oh man, I'll take the winter any time. You can always bundle up, but at some point you'd have to puncture your eardrums with Celine Dion playing. I like my eardrums."
RY: When you're in Canada, what's your beer of choice?
Chris: "Anything that has higher alcohol content than what's in America…so any of them. Molson Canadian, Labatt's Blue…any of that stuff."
RY: Which Canadian sport would you be better at if you had to play one professionally – hockey, or basketball?
Chris: Laughs, "That's absolutely hilarious, because I don't play either sport. In fact, I loathe basketball. Hockey…I can roller skate, but for whatever reason I can't ice skate. My ankles just don't like it. So, I'm going to say basketball because I can't skate…I'd just run around the court and pretend like I was playing."
RY: Tim Hortons is named after: A) a hockey player, B) a politician, C) a baker, or D) a TV star?  
Chris: "I'm going to go with a hockey player!"
RY: Correct! Who would win in an arm-wrestling match – President Barack Obama, or Wayne Gretzky?
Chris: "Wayne Gretzky, without a doubt. Even if he were starting to lose, he'd just pull out a hockey stick and start whacking the crap out of Obama."
RY: Can you spell Saskatchewan?
Chris: "S-a-s-q-u-e-t-c-h-a-n."
RY: Sorry, that's incorrect – it's S-a-s-k-a-t-c-h-e-w-a-n.
Chris: "Oh, right! Sorry, I'm an idiot…there's a k. What am I thinking of?"
RY: How much poutine would you be able to eat in a single sitting?
Chris: "It depends on whether it's before or after a show. Before the show, I would limit myself so that I don't have an explosion on stage. After the show, I'd eat as much as I could until I have an explosion."
RY: Do Americans really think that Canadians are just their little brothers?
Chris: "I think that ignorant Americans may. But, I think that anyone who has had the honour of coming over to your country, meeting you people, and experiencing your culture, do not think that. I'm one of those people who don't think that. Canada is great."
RY: If you were to ballpark it, what percentage of Americans believe that a lot of Canadians live in igloos?
Chris: Laughs, "There are some people in middle America with meth habits that I wouldn't put anything past."
-Adam Grant
Less Than Jake Canadian Tour Dates:
10/09 Vancouver, BC – Venue
10/10 Calgary, AB – Republik
10/11 Edmonton, AB – Starlite Room
10/12 Saskatoon, SK – Louis' Pub
10/14 Winnipeg, MB – Pyramid Caberet
10/16 Thunder Bay, On – Crock's
10/18 Toronto. ON – Opera House
10/19 London, ON – London Music Hall
10/22 Ottawa. ON – Ritual Night Club
10/23 Montreal, QC – Club Soda
Please be sure to follow us on Twitter @riffyou and at Facebook.com/riffyou.