Review: Watching the JUNOs from a Quiet Room

As the 2015 JUNO Awards exploded with energy from Hamilton, Ontario's FirstOntario Centre (still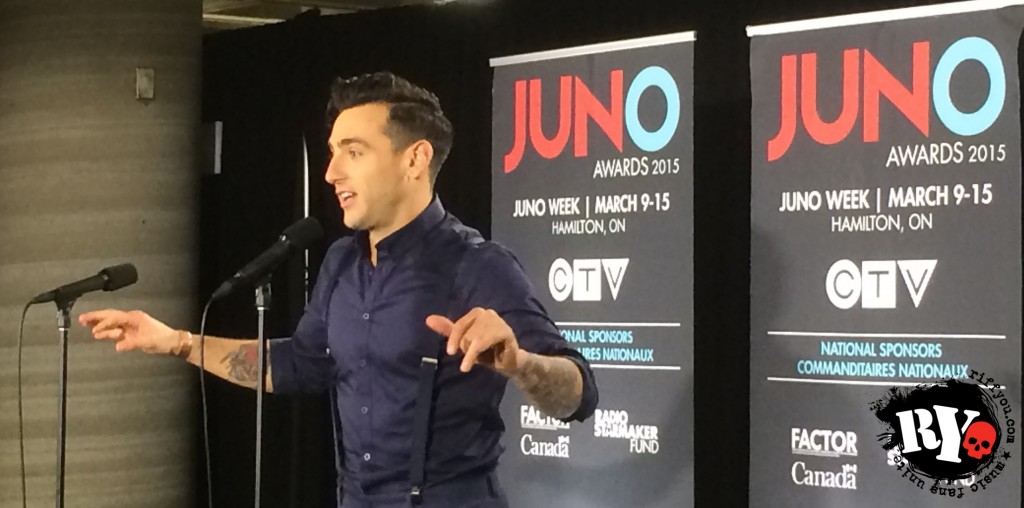 referred to by many locals as Copps Coliseum), the assembled media ironically found itself stationed in the quiet, upper levels of the next-door library. A maze of black curtains separated the writers from the photogs, while the video feed we relied upon to watch the broadcast was cutting in and out like a skier flying down the mountain. But, at least there was an open bar that remained open, even if the bartender began to ask too many questions and the nearby food table reeked of disappointment.
From what we could tell, however, the 2015 JUNO Awards from a live show perspective went off without a hitch. This is something many online trolls and critics (like myself) didn't expect to happen. Admittedly, when Hedley vocalist and moderately filtered individual Jacob Hoggard was announced as the program's host, eye-rolls were had. Knowing this, Hoggard had fun with the supposed nervousness surrounding the potential of him spouting off a not-safe-for-live-TV joke or stunt, by tipping his hat early and often to censors and online haters. He understood the outside nervousness, but refused to have it shelter him. He hosted freely and kept the night loose. Jokes didn't feel forced, nor did it appear as if Hoggard was wrestling with red tape around his mouth.
"I can't say I was," responded Hoggard when Riffyou.com asked him if he was concerned about how people would respond to his hosting duties. "To be honest, I did anticipate a bit of blowback when we announced it, but that's a normal thing. It spurred a little more confidence and I think I appreciated hearing that [early] feedback…and that people were excited about me. That gave me confidence to follow through and be who I am."
While it was disappointing (yet not totally shocking) that Leonard Cohen wasn't on hand to receive the Album of the Year JUNO, the warm presence of the weekend's big winner Kiesza (three trophies in all), along with Magic! and Hamilton's Arkells, more than made up for the missing-in-action poet.
Speaking of Arkells, had they not won the Rock Album of the Year award on Sunday evening, there was a 50/50 shot that segments of Hamilton would've rioted. Instead, a fairy tale occurred thanks to a rousing, goose bump-inducing rendition of "Come to Light," which followed a touching acceptance speech where early Arkells gigs at the city's McMaster University and concert club, The Casbah, were referenced.
"It's funny, we did a run through [of our performance] ahead of the show…and we set up to play and the microphone stand wasn't in front of me, and Mike's amp wasn't plugged in, and nobody could hear anything in the monitors," said Arkells frontman Max Kerman when Riffyou.com asked about going from those small stages in Hamilton, to the big one on JUNO night in Hamilton. "I was like, 'this reminds me of our first gig at The Casbah. It's just as uncomfortable.' So, we don't feel that disconnected to those early shows."
Meanwhile Kiesza's two-part performance of "Sound of a Woman" and "Hideaway" proved that the rising dance music star can sing as well as she can shake what her mama gave her. "Take what I do and take it to another level," she said backstage when asked what advice she'd give to up and coming artists.
Not to be outdone, the live pairing of Sam Roberts Band and Lights didn't make a whole lot of sense at first, but as the two joined forces for the Roberts hit, "We're All in This Together," the combined talents meshed beautifully and resulted in one of the night's finer moments.
Of course, Sunday also marked the night in which Alanis Morissette was inducted into the Canadian Music Hall of Fame. Now 20 years removed from her torching, millions upon millions selling album Jagged Little Pill, Morissette received the honour with a touch of class, controlled humour and genuine appreciativeness. When she re-took the stage to help close out the night with a medley of "Uninvited," "You Oughta Know," and "Thank You," Morissette sounded as great as ever, her voice succinctly pushing through boundaries usually faced by artists as they grow older. It would've been great to stand in the same room as that performance.
"As a 10-year-old I started a record company and remember wishing I was 30-years-old. Then, when I was 30, I wished I were 30. But, I have no sense of time. I don't even know what year it is at times," said Morissette with a laugh during a backstage Q&A session. "So, I just show up and be the best I can be in the present. In terms of being a young inductee, that portends many more exciting things in the future and different dangling carrots to grab."
While the 2015 JUNO Awards managed to succeed within the tight, two-hour timeframe that's allotted for it, one still wonders if it's a good idea to just present six awards and a single Hall of Fame induction for the broadcast edition of the show.
Yes, the Saturday night Gala still does a more than adequate job of representing more than 30 additional categories, but you can't help but think that categories like Group of the Year, Songwriter of the Year, Alternative Album of the Year, Pop Album of the Year and Rap Recording of the Year can't also be represented on the live show. Of course we may live in an era where attention spans are smaller and less open to a three-hour broadcast, but if the goal is to truly celebrate artistic excellence and not just a succinct TV package, then it's time to shift the format.
-Adam Grant
Please be sure to follow us on Twitter @riffyou and at Facebook.com/riffyou.