Watch Metal act Sever the Drama Perform at CD Release Party

Friends of RiffYou.com, Sever the Drama, held a CD release party on Saturday, May 31, 2014 at Bleachers in Bristol, CT. The new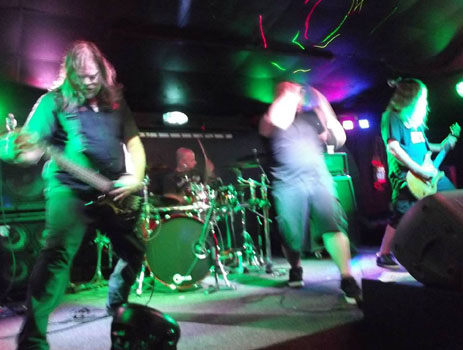 album, Chasing Shadows, is this Hartford-based hard rock/metal band's second album, following in the footsteps of their 2010 debut EP, Vested Interest.
Chasing Shadows can be purchased directly from the band by contacting them on Facebook or Twitter (@severthedramaCC). Digital copies of the album are currently in the works.
"I'd say all aspects are of equal importance," said the band in a Riffyou.com Getting to Know feature in January when asked about what they consider to be the most important part of the recording process. "First, you need to craft your idea, which starts out as just that, an idea. Then through the writing process that idea may change a few times until it's finished and it becomes a full song. Once it's done, you need to rehearse it over and over until it's ready to be recorded. Then it's just as important to make sure the production of the recording is similar to what you sound like live. We always want to make sure the energy that comes across live, comes across on the production of the recording."
 In the meantime, check out Sever the Drama performing "Had to Say Goodbye" at the CD release party below.
-Jessie Sipione
Please be sure to follow us on Twitter @riffyou and at Facebook.com/riffyou.