Weezer Frontman Calls "Pinkerton" his Most Influential Record

In a new interview with Pitchfork, Weezer frontman Rivers Cuomo took some time to discuss the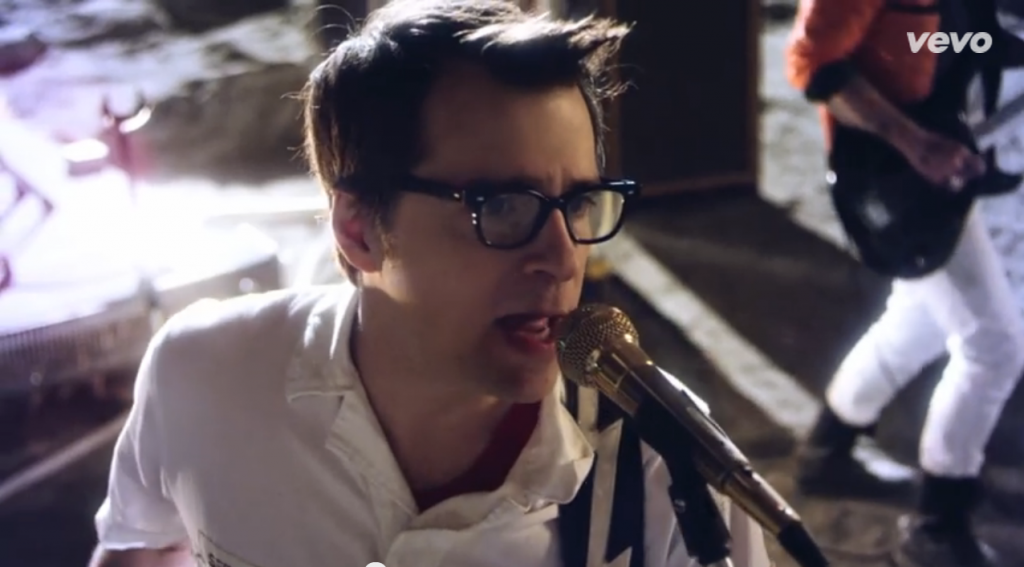 albums, artists, and songs that had a huge impact on him throughout different periods of his life.
Amidst tossing shout-outs to Cat Stevens, Kiss, Metallica, Nirvana, Eminem, and others, Cuomo admitted that his most influential album for the last handful of years has been Weezer's second album, Pinkerton.
"By far, the most influential record of the last four years for me was Pinkerton. It got reissued [in 2010], and we did a show where we played the whole album from beginning to end to celebrate, which turned into a series of shows we called the Memories Tour," recalled Cuomo. "The experience of learning those songs again, singing them every night, working on them with the guys, and then being in a relatively small venue with 1,000 of the most hardcore Weezer fans and hearing them sing every syllable, seeing them air drum all the fills—it was such an amazing experience and so different from what we'd been doing the years before that. We were playing mostly arenas and big festivals, a lot of the times for a very general audience that didn't know Pinkerton at all and didn't know much about Weezer. So it was a great feeling of validation from the fans, for this album that was so personal to me and had been such a source of pain for years. To feel loved and accepted for this very honest part of myself was inspiring."
However, Pinkerton wasn't always a source of pride for Weezer. After the album was poorly received commercially and critically, Cuomo and the band retreated for a number of years.
When Weezer reconvened for the making of what would become Pinkerton's long-awaited follow-up – 2001's The Green Album – Cuomo said he realized that it wasn't previously wise of him to "throw out the accepted structure of songs" (which could be heard on The Blue Album) to make an "operatic masterpiece with all these insanely personal lyrics." (Yup, that's Pinkerton.)
To get back to the shack, Cuomo went and studied early pop rock from the likes of The Beatles and The Beach Boys in order to put the pieces of Weezer back together again.
Explained Cuomo: "The biggest thing to turn me around [during the making of 2001's The Green Album] was the all-around failure of Pinkerton and feeling like, 'Oh my goodness, how could I have been so deluded? You can't throw out the accepted structure of songs and try to make this operatic masterpiece with all these insanely personal lyrics. You're embarrassing everyone and you let your audience and your band down. Let's do a 180 here."
He continued: "So I got super interested in early pop-rock music like pre-drugs Beatles, Beach Boys, and even going further back to records like Hank Williams. [A Hard Day's Night] is all like two-minute songs, and they all have the exact same structure, which is, by the way, the same structure used for every song 15 years before that. Each verse has the same melody, each bridge has the same melody, there aren't even choruses, just verse bridges, and you can tell they're not singing about anything remotely personal. And it's incredible! I was very inspired by that record. It's just so structurally perfect—every note complements the note that came just before it. In fact, we did some rehearsals where we did all the early Beatles songs and then, under the name Goat Punishment, we played all-Nirvana sets and all-Oasis sets. I was so interested in studying the structure of these great song forms."
-Adam Grant
Please be sure to follow us on Twitter @riffyou and at Facebook.com/riffyou.