Chris Cornell Reflects on Seattle Scene, Touring with NIN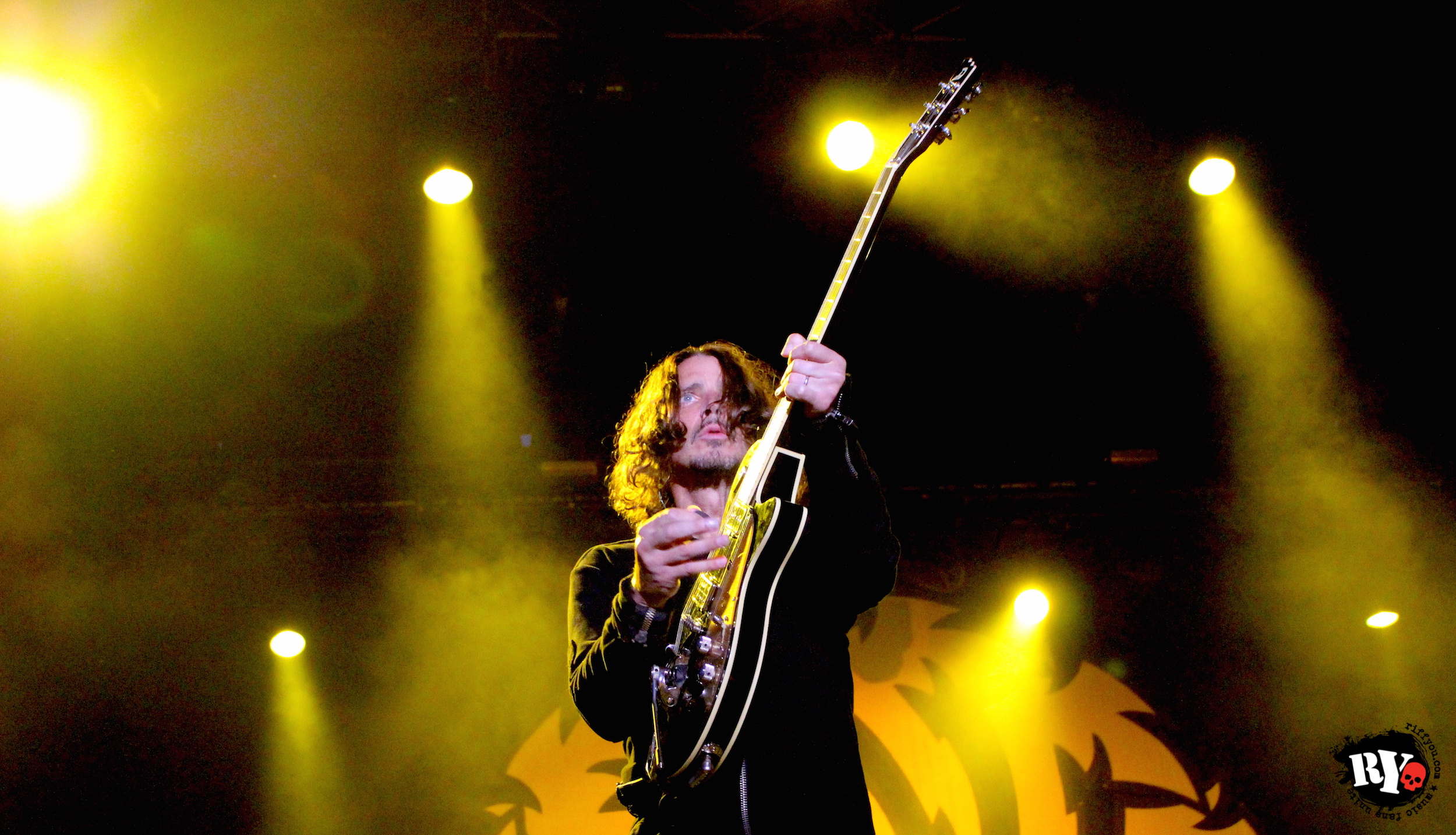 Chris Cornell is one busy dude of late. His Higher Truth solo album comes out on September 18 and he is working on the first Soundgarden album since 2012's King Animal. Yet, he still has time to weigh in on topics like the Sonic Highways documentary, touring with Nine Inch Nails and which rock artists interest him today.
During a new interview with Rolling Stone, Cornell (who appeared in the Seattle episode of Sonic Highways), was asked if director Dave Grohl managed to "catch the city and scene" that Cornell knew.
"It's impossible to capture what I saw," responded Cornell. "But what I experienced goes further back — years before anybody gave a fuck about what Seattle was. Seattle itself didn't give a shit about its own music. No matter how many fans you had, if a worse band with less following came from out of town, you opened for them. It's never been my inclination to see what other people have put together to describe it."
Later in the conversation Cornell was quizzed about Soundgarden's 2014 tour with Nine Inch Nails and how he was able to "cope with the Nineties nostalgia" that came along with those shows.
"There's no way to be a 30-year-old band, go on tour and pretend the nostalgia isn't happening," explained Cornell to Rolling Stone. "It was also important that young rock fans were discovering both bands at the same time. If you talk to Trent Reznor, you don't get the sense of a guy living in the past. I would hope he would say the same thing about me. It was that attitude that kept it from being like Whitesnake going on tour with Styx."
As for what modern rock music interests him, Cornell name-dropped Jack White and Dan Auerbach of The Black Keys.
"I get a sense of healthy revivalism, in a way that will spawn new rock that is interesting and exciting. That comes from guys like Jack White and [the Black Keys'] Dan Auerbach. Unfortunately, when terms like 'rock' and 'alternative rock' get thrown out there, it's as genres with rules. I always looked at rock & roll as the voice of regular people, of an economic group not in charge. Look at a film like Straight Outta Compton, the origins of it —rock is in hip-hop now."
Tour Dates:
09/20 – Los Angeles, CA @ Walt Disney Concert Hall
09/21 – San Pedro, CA @ Warner Grand Theatre
09/23 – Santa Barbara, CA @ Granada Theatre
09/24 – Santa Rosa, CA @ Wells Fargo Center for the Arts
09/26 – Oakland, CA @ Paramount Theater
09/27 – Modesto, CA @ Gallo Center for the Arts
09/29 – Seattle, WA @ Benaroya Hall
09/30 – Vancouver, BC @ Orpheum Theatre
10/02 – Denver, CO @ Paramount Theatre
10/03 – Salina, KS @ Stiefel Theatre for the Performing Arts
10/05 – Minneapolis, MN @ State Theatre
10/06 – Chicago, IL @ Chicago Theatre
10/08 – Lakewood, OH @ Lakewood Civic Auditorium
10/09 – Toronto, ON @ Massey Hall
10/11 – Buffalo, NY @ University at Buffalo – Center for the Arts
10/12 – New Brunswick, NJ @ State Theatre
10/14 – N. Bethesda, MD @ Strathmore Music Theatre
10/15 – Philadelphia, PA @ Merriam Theater
10/17 – Wilkes Barre, PA @ Kirby Center for the Performing Arts
10/18 – New York, NY @ Beacon Theatre
10/21 – Boston, MA @ Shubert Theater
10/23 – Wilmington, DE @ Grand Opera House
10/24 – York, PA @ Strand Capitol Performing Arts Center
10/26 – Atlanta, GA @ Atlanta Symphony Hall
10/27 – Nashville, TN @ Ryman Auditorium
10/29 – Miami, FL @ The Knight Concert Hall
10/30 – Saint Petersburg, FL @ Mahaffey Theater
11/01 – Dallas, TX @ The Majestic Theatre
11/02 – Austin, TX @ Austin City Limits Live at The Moody Theater
11/20 – Christchurch, NZ @ Isaac Theatre Royal
11/21 – Christchurch, NZ @ Isaac Theatre Royal
11/23 – Wellington, NZ @ Michael Fowler Centre
11/26 – Auckland, NZ @ ASB Theatre
11/30 – Brisbane, AU @ QPAC Concert Hall
12/01 – Brisbane, AU @ QPAC Concert Hall
12/04 – St. Kilda, AU @ Palais Theatre
12/05 – St. Kilda, AU @ Palais Theatre
12/07 – Adelaide, AU @ Adelaide Festival Centre
12/08 – Perth, AU @ Concert Hall Perth
12/11 – Sydney, AU @ Sydney Opera House
12/12 – Sydney, AU @ Sydney Opera House
-Photo by: Adam Grant
Please be sure to follow us on Twitter @riffyou and at Facebook.com/riffyou.