The Friday 5: Five Important Questions with Against Me!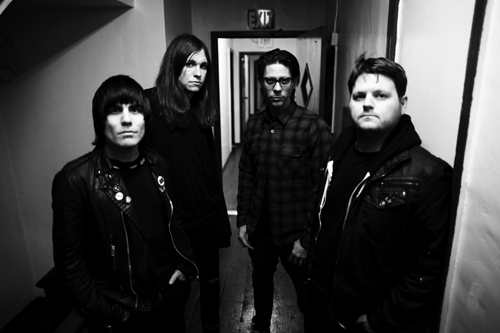 Against Me!'s latest album Transgender Dysphoria Blues has proved to be a real talking-point since its release in January. Much of the early attention came from the knowledge that band frontperson Tom Gabel had transitioned into life as a woman, and is now known as Laura Jane Grace. Apart from the story, however, the album could quite possibly be the band's best. It debuted at #23 on the Billboard 200, and has received a ton of positive reviews, including one from Riffyou.com.
When we spoke to Against Me! guitarist James Bowman a week after Transgender Dysphoria Blues' release, we snuck five very important questions into our interview. Here's how that went:
What is your favourite place to play guitar?
"Sitting at home, messing around – that's where a lot of ideas come from. [I like] the comfort of the home."
What is your favourite pre-show meal?
"On the last tour, we did family dinners a lot, which is great, because there were only seven of us on the bus this time around. So we'd all go out after sound check and have dinner…hopefully with enough time so that no one will throw up during the set. It was good. There was nothing specific that we'd want to eat before a show. But, the family vibe before it was good."
What album gets you out of a bad mood?
"Anything Ozzy! Blizzard of Ozz! That's my out of a bad mood record! It just riffs the hardest – you can't touch Randy Rhoads!"
Which band inspires you?
"I can't think of one, I'm sorry. Growing up on lots of old metal and punk [inspired me]. Ozzy Osbourne is up there – Randy Rhoads was there as his guitar player. He was the king of over-playing, but making it awesome! The '80s metal stuff is so excessive and terrible, but somehow [Rhoads'] stuff was excessive and not terrible." [Laughs]
Who is your biggest fan?
"My son is the biggest fan of me…he's the best. [With fans] it's always so cool that people will travel to a handful of shows and be in the front row; and be waiting out front to meet us. That's awesome. It's cool to hangout and talk to them. You expect them to be total-weirdo super-fans, but it's never like that. Everyone is always nice and normal. They like your band and want to see you play; and see how different one show is from the next. It's cool to see the different perspectives."
Please be sure to follow us on Twitter @riffyou and at Facebook.com/riffyou.