Inside The Dirty Nil's Debut "Higher Power" w/ Luke Bentham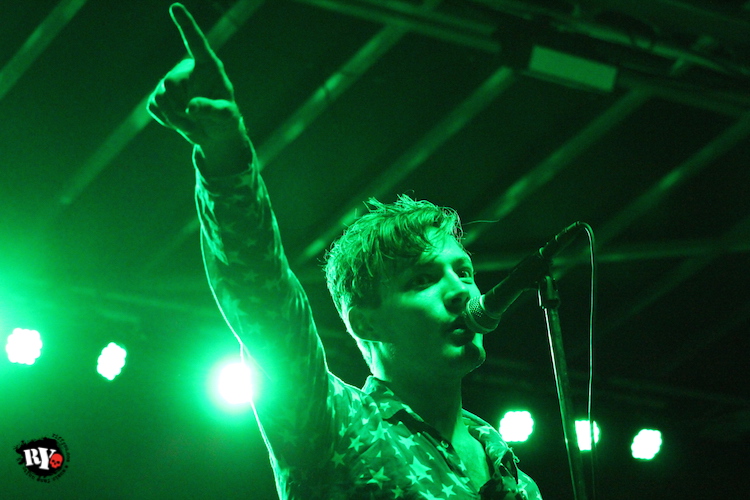 This week, Canadian garage-punk trio The Dirty Nil will officially unveil its stunningly intense, yet hooky and infectious debut full-length, Higher Power. Listening to it in public may result in getting extra aggressive with inanimate objects and receiving sideways glares from guys in suits – take it from this writer.
Ahead of the album's release, we caught up with the band's vocalist/guitarist Luke Bentham for an inside look at three of Higher Power's most stunning songs: "No Weaknesses," "Helium Dreamers" and "Lowlives."
Take it away, Luke!
"No Weaknesses"
"After completing basic tracking, we revisited everything and were somewhat underwhelmed with the guitar sound on this song in particular – it was to be the spearhead of the album and to some extent, its thesis statement. We decided to re-record the guitar, striving for the most aggressive sound possible. This was instinctively achieved by pushing a 100 watt Marshall SLP to deafening volumes and standing two feet in front of it. The body numbing effect of that volume was the closest thing I've ever had to a religious experience."
"Helium Dreamer"
"The wavering guitar sound of this song, which began as a joke, was achieved by swinging the neck of a guitar in time with the drums, allowing the feedback to run off in strange and random directions. This was really fun to record because of the physicality required to sustain that effort throughout the song. It's a very juvenile and cathartic nod to our trashy stadium roots."
"Lowlives"
"Whenever we record, I am reminded of the talent possessed by my bandmates. I sat in front of Dave (Nardi, vocals/bass) as he bellowed the intense vocal in a single take. Everyone in the room sat wide-eyed and still when the song ended. We knew we didn't need a second."
The Dirty Nil's Higher Power will be available through Dine Alone Records on February 28. Buy it so that you're not riddled with regret.
-Adam Grant
Please be sure to follow us on Twitter @riffyou and at Facebook.com/riffyou.