Why Stone Temple Pilots Fans Hate Chester Bennington

With the announcement of a spring tour and confirmation that a new album with Chester Bennington (of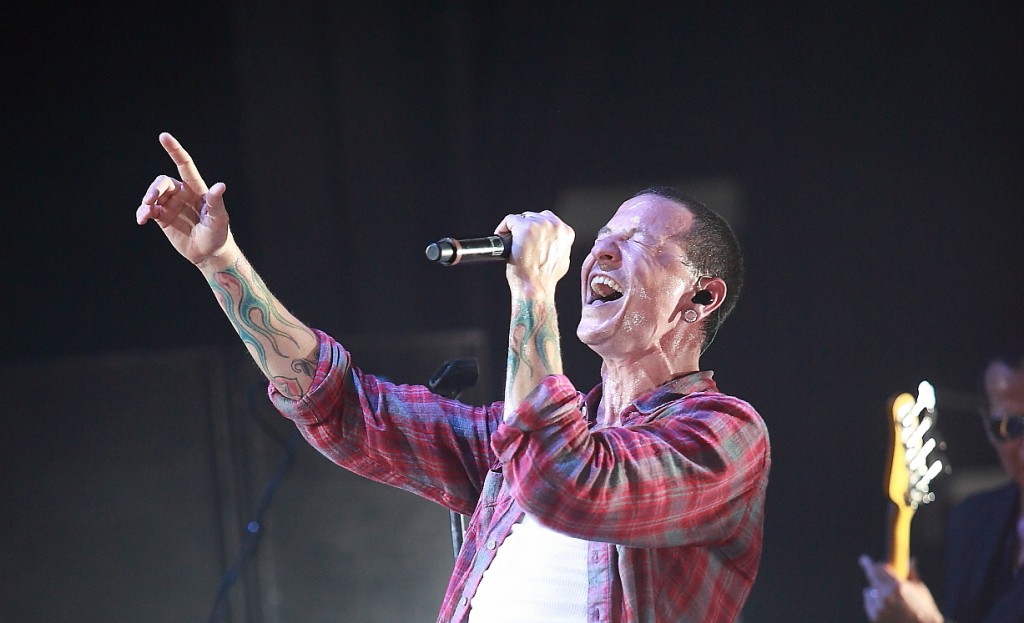 Linkin Park) on vocals is in the works, Stone Temple Pilots have faced a barrage of criticism from sections of their fan base.
In an online age where it's tough to decipher the trolls from the true fans, any hatred spewed on Twitter, Facebook, Instagram, or whatever, can only be taken so seriously. That said, those pissed off at Stone Temple Pilots have raised a number of valid points. In this piece, Riffyou.com offers its counterpoints.
Point: Bennington is Not Weiland. 
Counterpoint: Scott Weiland is not Chester Bennington. And, Chester Bennington is not Scott Weiland. This, from a teammate perspective is a great thing, as Weiland has over the years created an island for himself by finding new and exciting ways to either exit, or get kicked out of a band. He's a had a myriad of drug, legal and personality conflicts over the years, often resulting in a band's demise when dominance was within reach. Say what you will about Bennington, but he's helped lead Linkin Park to nearly 15 years of dominance, without putting forth the drama that derails a band. He gets the all for one, one for all mentality of a band. As much as you can't deny Weiland's talents, he's often been his own and others' worst enemy.
Point: This is not Stone Temple Pilots.
Counterpoint: Incorrect, it is. As much as we want to romanticize this idea that a band is just a bunch of guys or gals making music they love for the sheer thrill of it, the reality is that when you get as big as Stone Temple Pilots did, you also become a business. The brand of Stone Temple Pilots can still sell tickets. Considering that album sales are not what they used to be, touring can be the true revenue generator for bands (like this one) that may not sell as much music as they used to, but still need to make a living. Furthermore, to tour, you need a singer. If you can get a pro like Bennington, then why not? Yes, this is not the original incarnation of Stone Temple Pilots, but it is by now means a shadow of its former self. Three quarters of the band is still intact and if you carefully analyze credits on previous albums, you'll quickly see that Weiland did not do everything. The majority rules. 
Point: Weiland should've been replaced by an unknown.
Counterpoint: If Stone Temple Pilots went this route, cynics and Weiland loyalists would've eaten alive whichever YouTube or tribute band singer plucked from the crowd. That, and if you're going to make a bold move to a new singer to not just tour but to also make music with, you need a pro. The band is not as young as it once was. What's needed is someone seasoned enough to step in and not require a babysitter.
Point: It shouldn't be the singer from Linkin Park.
Counterpoint: Linkin Park is very easy to hate. Many of those who grew up with Stone Temple Pilots and other similar '90s rock bands look at Bennington's band as the complete opposite of what they'd ever associate with. They'd likely also argue that Linkin Park is the type of band that Stone Temple Pilots would've railed against if they'd come up at the same time. I get it. Linkin Park is very commercially successful because, like Nickelback, they rely on repeating songwriting formulas to ensure audiences get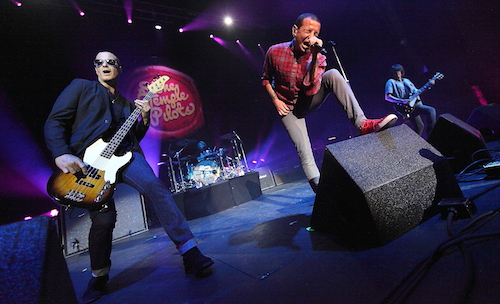 what they want. Maybe it shouldn't have been Bennington. But if that's the opinion you want to go with, what's the best option outside of he or Weiland?
Point: Bennington can't sing Stone Temple Pilots songs.
Counterpoint: Well, he can, but just not like Weiland. The worst thing a big band in need of a new lead singer can do is find a carbon copy capable of mimicking the vocalist who came before. Sometimes this works, but more often then not, such a lateral move winds up reeking like a steaming pile of laziness of selfishness. By going outside of what Weiland was to Stone Temple Pilots, the band has attempted to give itself a second life. Sure, no one will ever slither across the stage to "Sex Type Thing" like Weiland has, but maybe that's not what was being sought. Maybe something original felt required. Maybe Stone Temple Pilots wanted find out who its real fans are.
-Adam Grant
-Photos by Harry Reese
Please be sure to follow us on Twitter @riffyou and at Facebook.com/riffyou.