Artist of the Year: Arcade Fire

While Foo Fighters, Jack White, U2, Weezer and Morrissey all made significant news and moves within the music industry in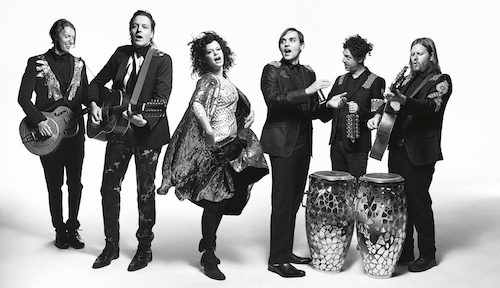 2014, it was Arcade Fire that proved to stand head and shoulders above everyone. Yes, even Taylor Swift – can we all just shake her off, shake her off already?
As 2014 came to life, Arcade Fire was riding a wealth of positivity surrounding their fourth full-length, Reflektor. The band often spoke out about how they had reached an exciting, fresh artistic terrain and wanted to make the experience of seeing them in concert an actual experience.
With that in mind, when Arcade Fire hit the road in support of the album in March, it was put up or shut up time. They had made a great new body of work and said all of the right things to get audiences into arenas. If the delivery was bungled, this mega-piece Montreal collective would've just come off as another pretentious pack of hipsters, promising us the world, but giving us nothing more than debates about whether or not white jeans are acceptable in public.
As the tour began to build momentum, you'd literally hear something new from Arcade Fire just about every day. You see, the band did its damndest to give as many shows as possible a regional spin. Instead of relying on a select number of covers that would be rotated throughout the tour, Arcade Fire opted to cover songs by artists from the general vicinity of venues they were playing.
In all, reported Consequence of Sound, the 74-date tour consisted of 35 cover tracks, which featured guest appearances by the likes of Marky Ramone (Ramones), David Byrne (Talking Heads), Debbie Harry (Blondie), and others. Some bands try not to trip over lighting cues or costume changes: here was Arcade Fire digging through sonic archives to give each show as unique a feel as possible.
But they didn't stop there. In terms of their own material, Arcade Fire tore through 68 different songs throughout the tour. Yes, they had to pay optimal attention to Reflektor tracks, but there wasn't a set-in-stone set list than many bands rely on to make touring as hassle free as possible. On any given night, you could hear anything off of Reflektor, The Suburbs, Neon Bible, and Funeral.
If the sounds weren't enough for attendees, the encouragement of concertgoer costume-sporting added an enjoyable element to the live experience. Sure, some were initially rubbed the wrong way when Arcade Fire initially made it sound as if each show had a strict dress code, but after that slip of the tongue was cleared up, those interested in attending the biggest costume party of the year did so in grand fashion.
Not only did this concept lead to a rather colourful crowd, it also led to arguably the least douchebag filled concert I'd ever attended. Everyone was there for the experience and Arcade Fire felt more a part of it, as opposed to the coordinators of it.
What Arcade Fire managed to achieve in 2014 was the reinvention of the concert experience. They didn't rely on reputation, chops, or buzz to make the Reflektor Tour succeed. They simply gave everyone in the room a feeling that was too stirring to ignore.
And really, isn't that what music should be all about?
-Adam Grant
Click here to view the rest of our Best of 2014 selections.
Please be sure to follow us on Twitter @riffyou and at Facebook.com/riffyou.