WIN TICKETS TO RIOT FEST TORONTO 2015!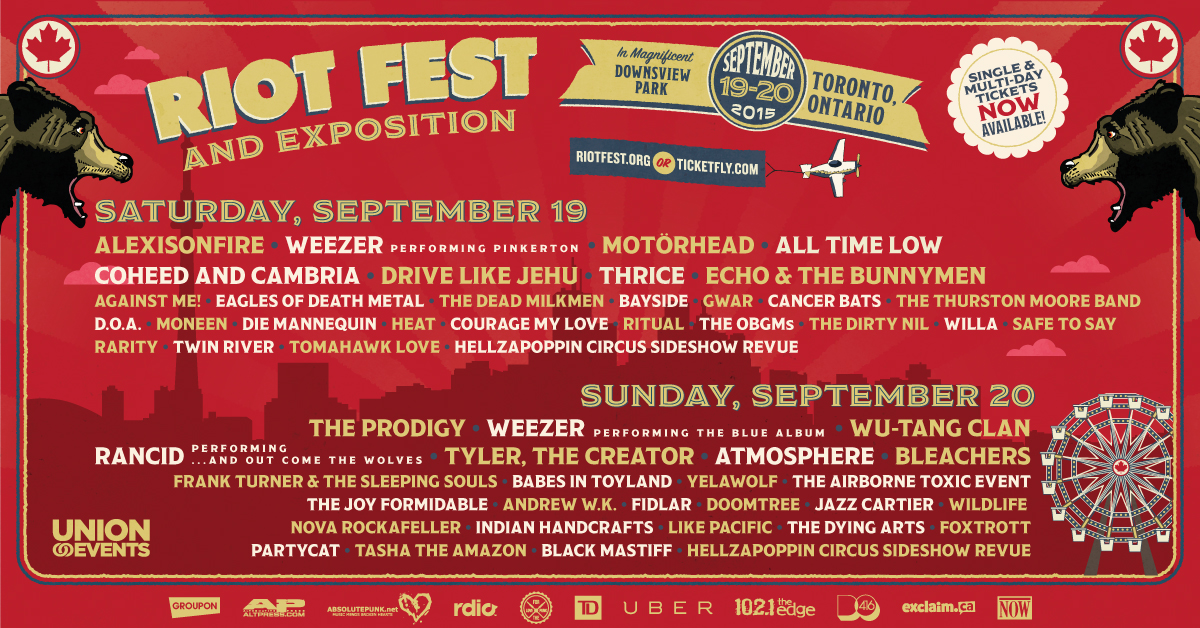 Riot Fest is invading Toronto's Downsview Park on September 19 and 20, and we would like to give you the chance to win a pair of tickets!
All you have to do is follow us on Twitter @riffyou or at Facebook.com/riffyou, and tell us which Riot Fest band you would start a riot to see. Please use #riffyouriot to ensure that we see your entry.
Contest closes Friday, September 11 at 10am EST. The winner will be contacted shortly thereafter. If you enter, please keep an eye on your social media accounts on this day.
The winner will be responsible for his or her own travel to and from Riot Fest Toronto, as well as accommodations. 
Good luck!
This year's lineup includes:  Alexisonfire, Weezer (performing Pinkerton and The Blue Album), Prodigy, Wu-Tang Clan, Rancid (performing …And Out Come the Wolves in its entirety), Motörhead, All Time Low,
 Tyler, The Creator, Bleachers, Coheed and Cambria, Atmosphere, Drive Like Jehu, Echo & the Bunnymen, Thrice, Frank Turner, Eagles Of Death Metal, Against Me!, Babes In Toyland, Yelawolf, The Airborne Toxic Event,
 The Joy Formidable, Andrew W.K., Bayside, GWAR, The Thurston Moore Band, FIDLAR, Doomtree, Jazz Cartier,
 D.O.A., Moneen, Die Mannequin, Heat, OBGMs, Wildlife, Nova Rockafeller, The Dirty Nil, Indian Handcrafts, Like Pacific, The Dying Arts, Safe To Say,
 PARTYCAT, Cancer Bats, Courage Me Love, Ritual, Willa, Tasha The Amazon, Rarity, Foxtrott, Twin River, Black Mastiff, and Tomahawk Love.
Please be sure to follow us on Twitter @riffyou and at Facebook.com/riffyou.